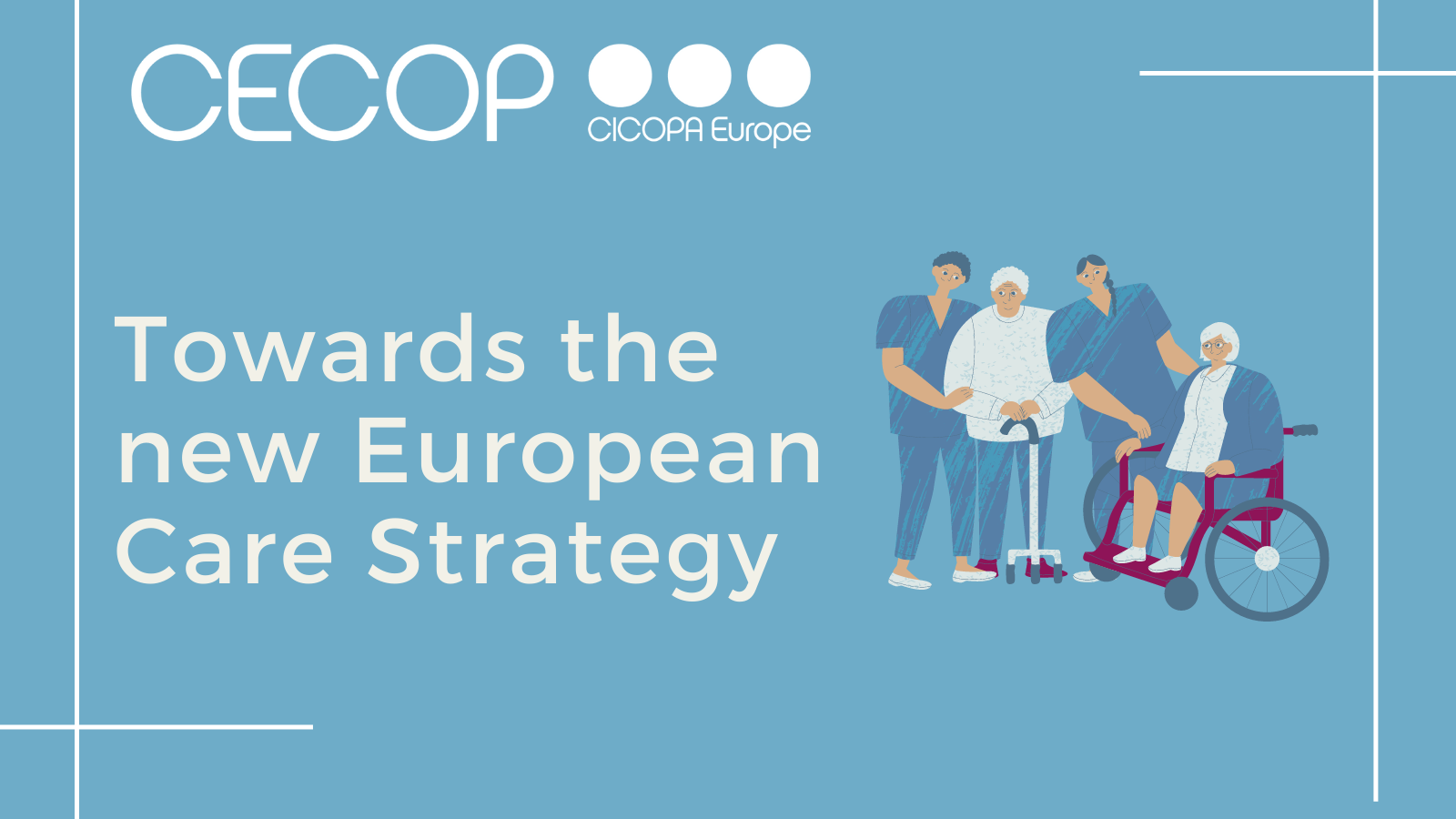 In September 2022, the European Commission is planning to publish a European Care Strategy, accompanied by a proposal for a Council Recommendation on long-term care and a proposal for a Council Recommendation on the revision of the Barcelona targets on early childhood education and care. This is a major priority for CECOP. Social cooperatives that form part of our network are essential actors when it comes to the provision of care services, serving the needs of care workers, care beneficiaries, and broader communities. This is why CECOP will launch a campaign soon aiming to highlight the role of cooperatives providing care and to ensure that they receive the necessary support to address the many outstanding challenges in the care sector. Our organisation has already responded to the first call for evidence launched by the European Commission, and will keep closely following this policy file.
Thousands of cooperatives across the EU provide care to citizens at all stages of life: childcare, specific care for youth, care for vulnerable groups (for instance, people with disabilities, migrants, ethnic minorities), care for the elderly. We can find kindergartens, schools or elderly residences which are entirely managed by cooperatives, or benefit from services provided by cooperatives.
Being a part of the social economy family, cooperatives are private, democratically managed enterprises which reinvest the profits to improve their operations, thus ensuring quality, effectiveness and affordability of the service provided. Because they involve the workers in governance and ownership of the cooperative, they provide quality working conditions (such as stable contracts, decent pay, work life-balance, training). Thanks to this, cooperatives address major concerns for the care sector – low employee retention, difficult working conditions, and high prevalence of undeclared and informal work. Moreover, cooperative enterprises are characterised by equal opportunities (for instance, including women and other underrepresented groups in management positions at higher than average rates, offering equal pay, etc).
Cooperatives make valuable contributions to quality care:
Cooperatives in the care sector are usually based on multistakeholder governance and involve all parties concerned by the service: workers, beneficiaries and other actors (public authorities, other cooperatives, NGOs etc). This helps the beneficiaries to participate in design of care services – and increases the quality of these services.

They reinvest profits and can benefit from tailor-made financial instruments and support provided by the cooperative movement (mutualised funds). Thanks to this, cooperatives can ensure long-term, uninterrupted provision of care services, and demonstrate resilience in time of crisis.

Cooperatives are often the only care provider in remote and rural areas; in fact, they normally get established precisely when there is a gap in availability of care services.

Cooperatives are deeply embedded in their communities and thus contribute to promoting community-based care models.

Cooperatives provide decent working conditions to the workers and help to transform informal and unstable work into paid jobs, helping to address some of the main challenges in the care sector. In particular, platform cooperatives can serve as a quality employment model to care workers working through platforms.

Grouping in consortia and cooperative groups allows cooperatives to have a wider impact and take part in substantial public contracts; they are regular partner with public authorities.

New forms of collaborations are emerging between cooperatives and public administration in planning public policies on care, especially at local level. Cooperatives and local authorities can be allies in the shared mission of analysing community needs and setting up long-term solutions and assistance. Moreover, cooperatives can also stimulate public administration and social impact finance actors in integrating resources and accelerating the development of care in the EU.
Unfortunately, cooperatives providing care are currently facing a number of challenges. Some of these are characteristic of the care sector as a whole, for instance: pressure due to ageing population and lack of care professionals, the need for upskilling and reskilling of care workers, lack of financing and investment in care and social infrastructure for care, and the challenges related to the digital transition.
Other challenges are more specific to cooperatives. Thanks to their people-oriented business model, they are best positioned to compete on quality criteria, not on the lowest price which is often achieved by saving on care recipients' needs. Regrettably, use of cheapest price criteria in public procurement for care drives down quality of services and care workers' wages, and makes it difficult for cooperatives to compete.
Moreover, the relationship between the cooperatives and the public authorities should be reconsidered. Public authorities should use not only public procurement but also other legal instruments, such as concessions or accreditation. Instead of the model in which "local administration asks, cooperatives carry out" care tasks, we need a new paradigm in which public administration and cooperatives engage in a joint process of planning and spending. Additionally, the EU member states which are not sufficiently aware about the cooperative model in the care sector and do not yet have favourable legal framework for cooperatives, should provide a more favourable environment on the national level.
In 2022, CECOP will work to make sure that cooperatives as care providers are recognized and embraced by policymakers.
Follow our news and feel welcome to reach out to our Advocacy Coordinator Diana Potjomkina (diana.potjomkina@cecop.coop) in case you have any questions or would like to collaborate.