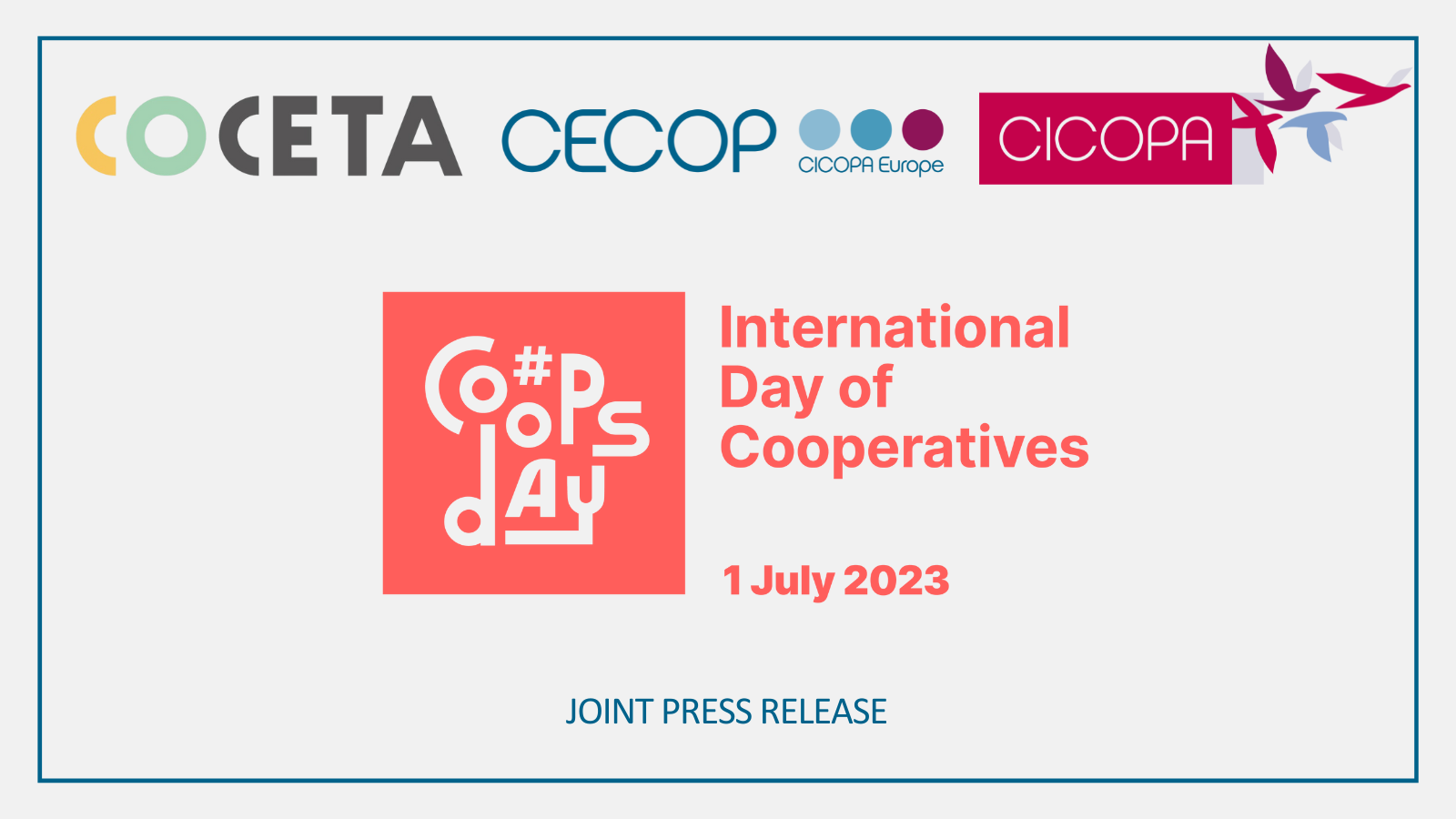 30 June 2023
Tomorrow, International Day of Cooperatives, coincides with the beginning of Spain's six months Presidency of the Council of the European Union. Taking advantage of this circumstance, the organisations representing industrial and service cooperatives in the world and in Europe (CICOPA and CECOP), as well as the organisation representing worker cooperatives in Spain (COCETA), are joining forces to stress the importance of having more supportive and coherent ecosystems for cooperatives in Spain, in the European Union and worldwide to boost a business model that builds a sustainable future.
Cooperatives provide answers to many current and future challenges that the world of work and communities are facing, such as fair green and digital transitions, social inclusion and cohesion, or decent work, but they require greater recognition and support from regional, national, European, and global institutions.
Industrial and service cooperatives are mainly organised as worker cooperatives all over the world, creating stable, secure employment and decent working conditions for the benefit of all, including the weakest members of our societies, helping to reduce inequalities. Despite being more than 100 years old, the worker cooperative model has proven its ability to cope with complex global challenges and its incredible adaptability to new and emerging challenges, as has recently been the case with the platform economy.
Innovation is inherent to cooperatives, combining social and technological advancement with concern for the community and people. This results in a more equal and more efficient distribution of wealth. The cooperative model can be deployed both to preserve traditional industrial capacities and to address new and complex technological processes.
In turn, social cooperatives have demonstrated their capacity to offer cutting-edge responses that put people at the center. They provide the community with care, assistance, and social services, prioritising vulnerable citizens, and have an impact on sectors such as education, culture, sustainable tourism, transport, renewable energies, housing, etc.
The UN resolution on Social and Solidarity Economy and the EU Council Recommendation for Social Economy are two unequivocal calls for action. We hope governments will seize the opportunity and implement favorable measures to boost cooperatives in industry and services. With this joint declaration, CICOPA, CECOP, and COCETA call on governments, European institutions, and international organisations, with particular emphasis on the Spanish government, to work hand in hand with the organisations representing cooperatives in industry and services in order to establish an ecosystem that maximises the potential of cooperatives to contribute to the Sustainable Development Goals of the 2030 Agenda.
ABOUT CICOPA
The international organisation representing industrial and service cooperatives, is made up of 52 national members from 36 countries, representing around 65,000 cooperative enterprises and around 4 million jobs.
ABOUT CECOP
The European organisation of CICOPA. CECOP advocates for industrial and service cooperatives at the European level and has 27 members in 16 countries.
ABOUT COCETA
A member of CECOP and of CICOPA, is the organisation representing around 17,800 worker cooperatives in Spain, which provide 315,000 direct jobs, and has a territorial network of 15 federated entities.