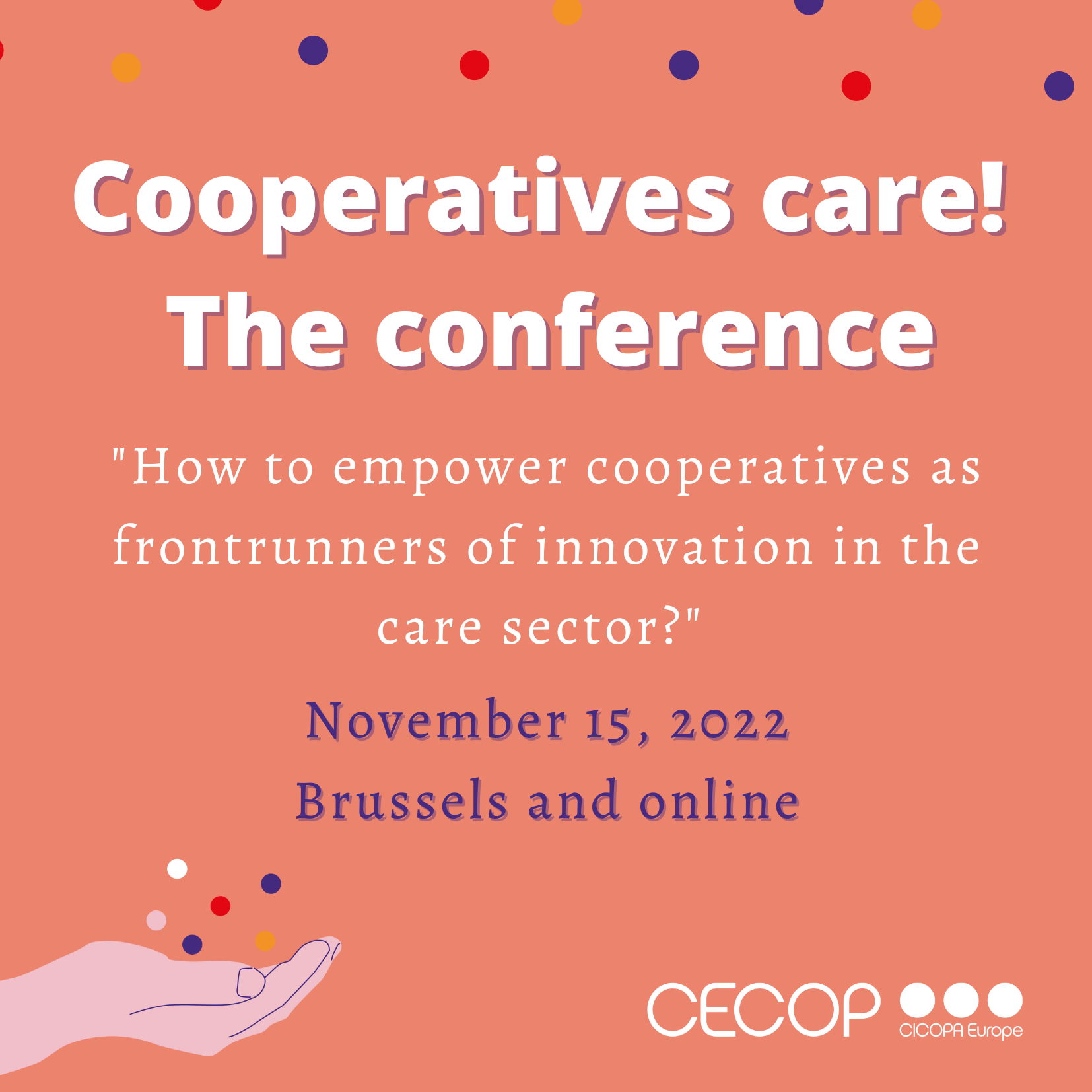 CECOP invites you to the conference: "Cooperatives Care! How to empower cooperatives as frontrunners of innovation in the care sector?"
On September 7, 2022, European Commission published a package of policy documents on care, including the first ever European Care Strategy. Ambitious and decisive actions at EU and national level are needed in order to address the outstanding challenges in the EU's care sector – and innovation is crucial in order to remain connected to evolving needs, deliver highest quality care and improve the work conditions of the carers.
For several decades now, cooperatives have been emerging as innovative and attractive providers of quality care, especially in situations where other providers, such as public authorities or private actors, fail to satisfy the demand. Cooperatives' contribution to the sector is growing significantly, spanning multiple European countries, employing hundreds of thousands of workers, and serving millions of people today. Covering all types of care services, including home care, nurseries, residential and day centers for children and adults, elderly care, and more, cooperatives are driven by the needs of the communities and care workers. But what makes them unique compared to other care providers?

CECOP's conference will look at novel solutions cooperatives provide for better care across Europe. More specifically, we will hear testimonies from cooperatives on two crucial aspects of innovation: technological innovation in the service of care and on social innovation for unmet needs.

The opening part will include addresses from Nicolas Schmit, the EU Commissioner for Jobs and Social Rights; Sirpa Pietikäinen, Member of the European Parliament; and Maria Jepsen, Deputy Director of Eurofound. Finally, the conference will address the future of the EU Care Strategy, preconditions for its successful implementation, and the role cooperatives will have in its success.

Join us for an exchange with cooperatives from the CECOP's wide network, EU institutions and other European stakeholders!
Date: Tuesday, November 15, 2022
Time: Networking lunch from 12:30-13:30 (CET)
Conference from 13:30 - 17:15 (CET)
Place: Brussels, at the Residence Palace (room Maelbeek) and online.
Interpretation will be provided in English, Spanish, French, and Italian.
Event link will be sent a few days before the event to those who register to attend online.
Meet the speakers!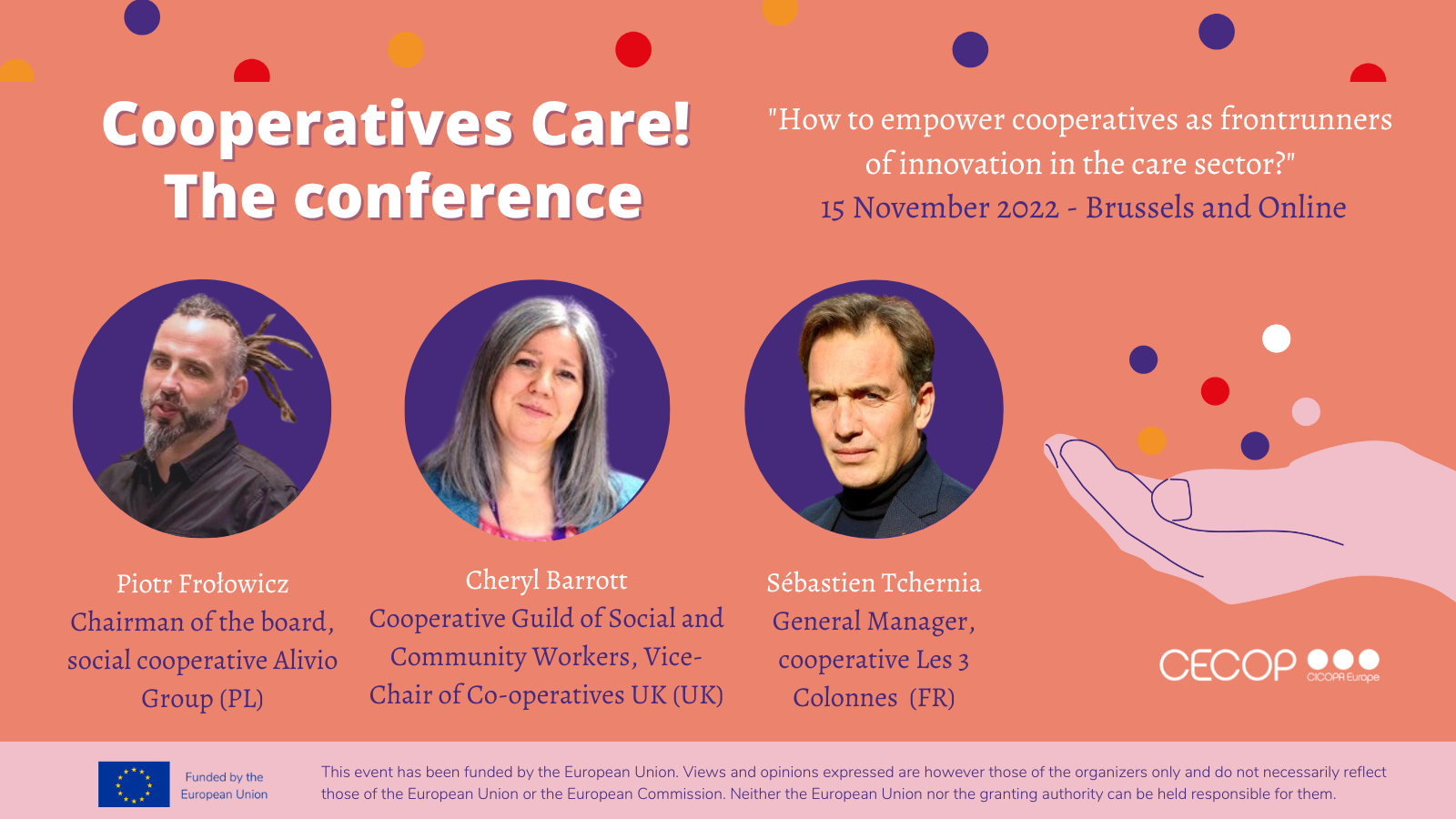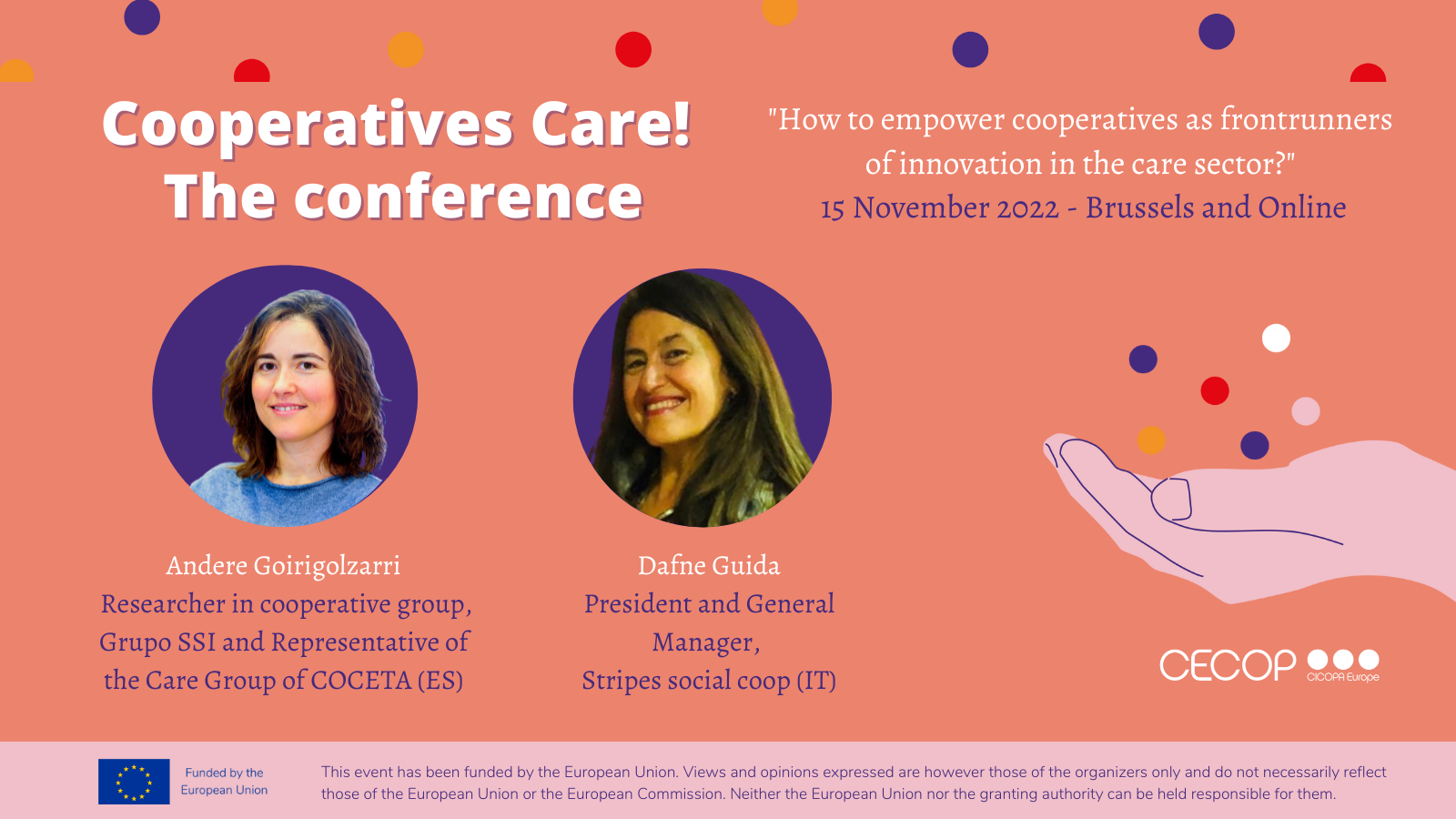 In the meantime, read here the Cooperatives Care! report.